Perfussom #13 | Pedro Bap + Era uma vez um tímpano
8 Dezembro 2018 19h00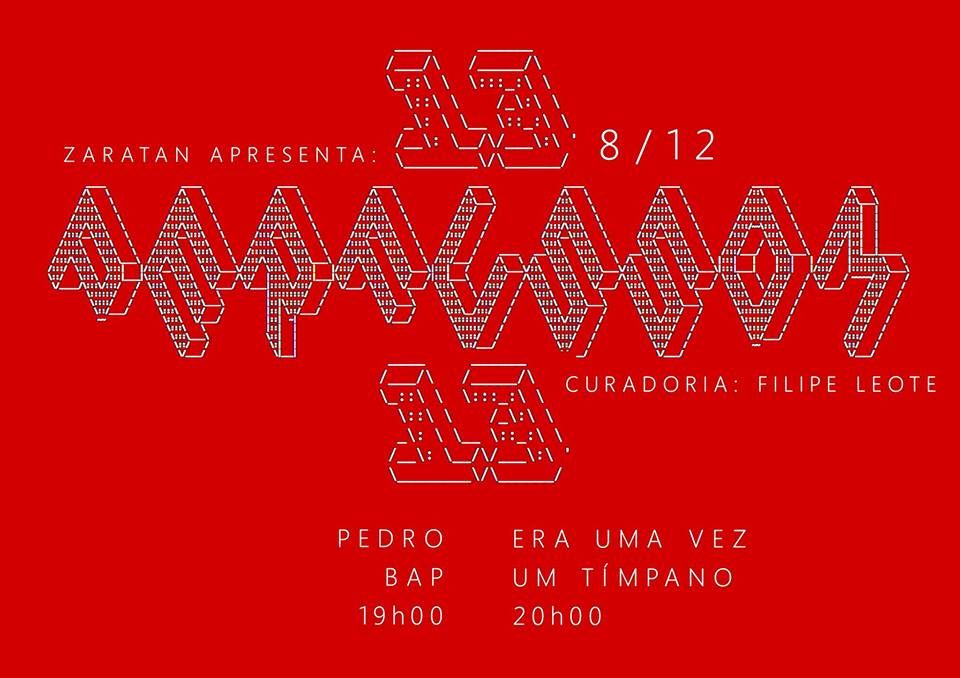 PERFUSSOM (13)
Pedro Bap + Era uma vez um tímpano
December 8 at 7pm
3€ entry for non-members
PERFUSSOM is a cycle of live events between performance, music and poetry. PERFUSSOM follows a nomadic and undisciplined path, proposing the mixing of several expressive languages. With curatorship of Filipe Leote, it happens once a month at Zaratan. In this thirteenth session there will be performances by Pedro Bap and Era uma vez um tímpano
PEDRO BAP > 19H00
Once again reborn from the ashes of the Damage Fanclub and Stuka, Pedro Bap returns, this time solo, with the usual noise level.
https://soundcloud.com/user-77484495/tracks
ERA UMA VEZ UM TÍMPANO > 20H00
One-man band (Danix). Guitar loops, tribal drum machine, cavernous voice, black environment, sarcastic lyrics and total commitment to the Do It Yourself philosophy.
https://eraumavezumtimpano.bandcamp.com/
https://www.youtube.com/watch?v=ru1kuz-I5Cw&feature=youtu.be&fbclid=IwAR0w4j54QydqWLTSQyrmjXKNiVTVEv7zrXzxPg9zmkjRPeQMKKx5I82f4Yk