Spin Slowly, Fighting Gravity
16 Novembro 2018 19h00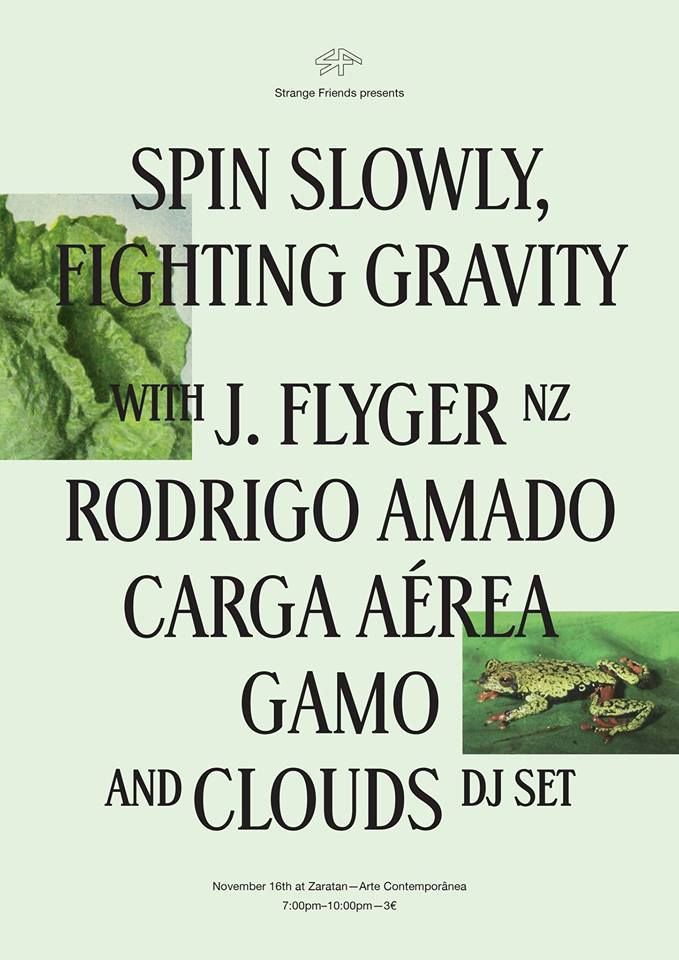 Strange Friends Presents:
Spin Slowly,
Fighting Gravity
Featuring:
J. FLYGER (NZ)
RODRIGO AMADO
GAMO
CARGA AÉREA
CLOUDS (DJ SET)
November 17th (7:00pm - 10:00pm)
3 euro for non-members
Zaratan - Arte Contemporânea
J. Flyger
https://jflyger.bandcamp.com/
J.Flyger is the new project from Joel Flyger (Popstrangers - Carpark Records). Previously released this year as a self titled EP which involved shows in New Zealand, Australia and England. A blend of ambient soundscapes, lo-fi rhythm samples and pop music are mashed together for a live show and release in late 2018.
Rodrigo Amado
https://rodrigoamado.bandcamp.com/
Nominated, for the fourth consecutive year, by the El Intruso International Critics Poll (more than 50 critics, from 18 countries) as one of the top 5 saxophonists in activity, alongside Evan Parker, Joe Lovano, Ken Vandermark, Jon Irabagon, Ivo Perelman, Chris Potter or Ingrid Laubrock, Rodrigo Amado has just released "A History of Nothing" (Trost Records), the second album from the quartet he keeps with three of the most important figures of today's creative jazz - Joe McPhee, Kent Kessler and Chris Corsano. With this formation or fronting his celebrated Motion Trio, with cellist Miguel Mira and drummer Gabriel Ferrandini, Amado has been performing in innumerable Festivals and venues all over the world, namely Bimhuis in Amsterdam, DOM in Moscow, Jazz House in Copenhagen, Cafe Oto in London, Pardon To Tu in Warsaw, De Singer in Antwerp, Manufaktur in Stuttgart or the State Philharmony Hall in Oradea. His music has been object of hundreds of reviews in magazines, newspapers and blogs all over the world, and his work critically acclaimed in leading publications like The Wire magazine, El País and Folha de São Paulo newspapers, or the Bandcamp Daily online. With a discography of 19 albums under his own name and participation in more than 30 others, he is unanimously considered one of the key players in European Jazz. As North-American critic Stuart Broomer writes in his liner notes for "This Is Our Language", "Amado is an emerging master of a great tradition, more apparent with each new recording or performance."
Gamo
https://soundcloud.com/user-426173929
Descending from a direct line of young teenage/adult childish artists from Lisbon, appears Miguel Pinto, better known for managing a youtube channel titled "#embanhomaria", he is responsible for breaking down Portuguese musicians through an audiovisual manipulation that directly collides with the aesthetics of respective artist. Taking advantage of not only these subterranean local influences and mixing them with other disparate ones - from the hypnotic eclecticism of The Prodigy to the mad acidity of Moby - Gamo regenerates from its worldly influences to create energetic and sometimes lunatic music, finally, reflecting the new urgent and hasty secular generation.
Carga Aérea
cargaerea.bandcamp.com
Francisco Marujo's last name means "sailor," and the Lisbon producer describes his search for the missing pieces of his musical map as getting "lost in a sea of sound." It's a description that suits his William Basinski-inspired ambient synthscapes to a tee. Under the name Carga Aérea, Marujo creates shimmering washes of sound – sometimes warmly nostalgic, at others with a keen sense of drama. And he's not afraid to push further outwards: His second EP, released at the end of 2017, was "Ocorrência em Aberto", a cinematic 32-minute composition inspired by the forest fires that had raged around the Portuguese countryside that year. It's a testament to Marujo's ability to tie the abstract nature of ambient music to real-life topics and locations. After being selected to participate in this year's Red Bull Music Academy in Berlin, he will be releasing, late this year, his newest EP "transumância".