Night of the 3 Giants | Madeira / Lotz / Zingaro
22 Outubro 2018 19h00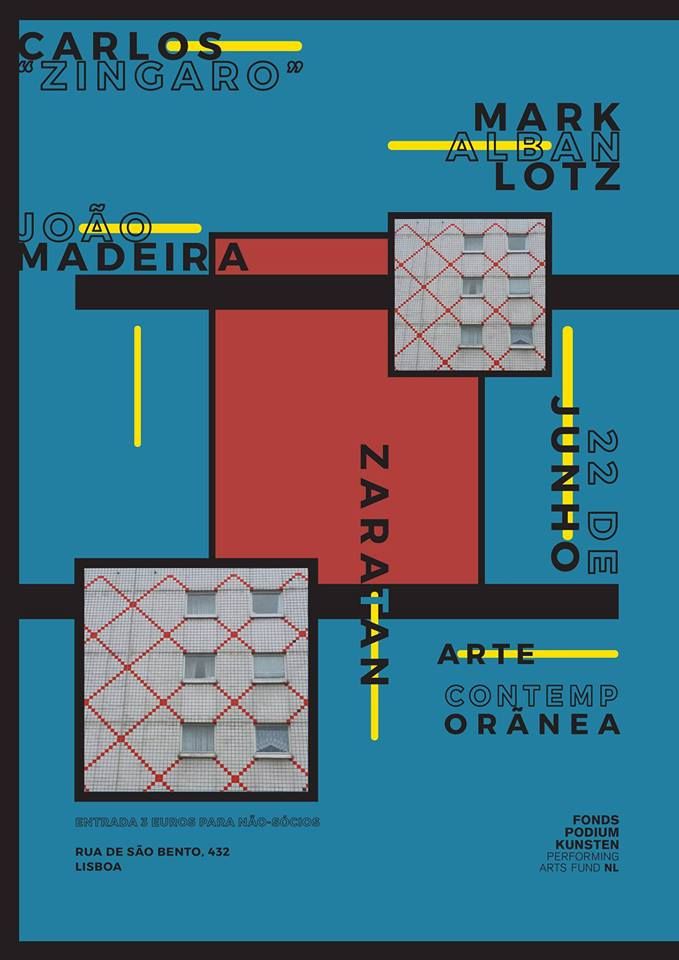 Mark Alban Lotz (Germany/Holland) - Piccolo, C Flute, Alto Flute, Bass Flute, Bansuri, Prepared Flute, voice
Joao Madeira (Portugal) - Contrabass
Carlos "Zingaro" (Portugal) - Violin
Zaratan is very proud to welcome the egendary improviser and flutist Mark Alban Lotz. Lotz.
A vibrant personality on the Dutch and international music scene, Mark Alban Lotz will collaborate with two Portugese improvisors of high caliber: bass player Joao Madeira and violinist Carlos "Zingaro". A meeting in dynamic interactive music by three giants. Mark Lotz will open the concert with one of his stunning solo recitals.
BIOS:
Mark Alban Lotz
Raised in Thailand, Uganda and Germany, his appetite for musical adventures takes him all over the globe. Here ears are all open.
A unique voice in an astounding range of musical contexts, exploring and redefining divergent traditions.
Acclaimed as much for his restless creativity as for his virtuosity as a player. Constantly working on and searching for new collaborations and recordings, resulting in an enormous broad output.
Worked with a huge cast of artists over the last two decades, a reference as to what new grounds (jazz?) music is heading now.
He builds an bridge between jazz with contemporary music, often crossing borders with other music cultures of the world.
Carlos "Zingaro"
He undertook classical music studies at the Lisbon Music Conservatory from 1953 to 1965, and during the years 1967/68 he studied pipe organ at the Sacred Music High School. Also, during the 1960's, he was a member of the Lisbon University Chamber Orchestra. In 1967 he formed PLEXUS, the only Portuguese group at the time to have developed a new musical approach based on contemporary music, improvisation and rock; the group recorded a 45rpm single for RCA-Victor in 1968. From 1975 onwards Carlos "Zingaro" has performed with a wide variety of improvising musicians: Barre Phillips, Daunik Lazro, Derek Bailey, Joëlle Léandre, Jon Rose, Otomo Yoshihide, Christian Marclay, Peter Kowald, Roger Turner, Rüdiger Carl, Wilbert DeJoode, Evan Parker, Günter Müller, Mats Gustafsson, Mark Dresser, Paul Lovens, etc.. In 1978 he was invited by the Wroclaw Technical University in Poland to participate at the 1st Instrumental Theatre Meeting, and in 1979 he won a Fulbright Grant and was invited by the Creative Music Foundation in Woodstock, New York to participate in meetings, classes and performances with such composers as Anthony Braxton, Roscoe Mitchell, George Lewis, Leo Smith, Tom Cora and Richard Teitelbaum (a regular collaborator and with whom he premiered his piece GOLEM at Ars Electronica / Linz in 1990). He also gave lectures on New Notation Concepts, Movement and Sound, and the inter-relationship of Improvisation and Body Attitude. As a soloist, or with other musicians and composers, Carlos "Zingaro" has performed at many of the most important new "free music" festivals in Europe, Asia and America. He has more than 50 published records under his name or in collaboration with other musicians / composers. A substantial level of Carlos "Zingaro"'s musical activities is associated with theatre, film and dance. He has also been stage and costume designer for several other theatre and new dance productions. He has produced several film scores and worked extensively with dancers and dance companies such as the Gulbenkian Dance Company, the Opéra de Genève Dance Company, Michala Marcus, Aparte, Olga Roriz, Vera Mantero, Francis Plisson / Marouchka, Ludger Lamers, etc.. Since 2002 he is the founder and president of experimental arts / music association GRANULAR.
João Madeira
He began studying bass at the Music at the age of 12 and then followed his own course, starting his poetic aesthetic research with a book of poems, published in 2002. After his degree in Musicology in 2003, he did research, coordinated a public cultural sector, and then started the pedagogical activity it is currently developing. He studied several extra-Western musical languages before devoting himself exclusively to free improvisation / composition. In the theater and cinema, he collaborated as composer, musician, actor, sound engineer and musical director - – A Fabrica de Nada, Agora eu era, África de José de Guimarães, or Para Acabar are some of his participations. He highlights his solo video-art project Aero (2011), but is currently recognized for his regular collaboration with Variable Geometry Orchestra of Ernesto Rodrigues, for the work developed with his trio GALMADRUA, as well as the duet with Hernâni Faustino, or his partnerships with Margarida Mestre and Constança C. Hemem, in multidisciplinary projects, an artistic context that healways privileges.