BBB hairdryer + HIFA
14 Setembro 2018 19h00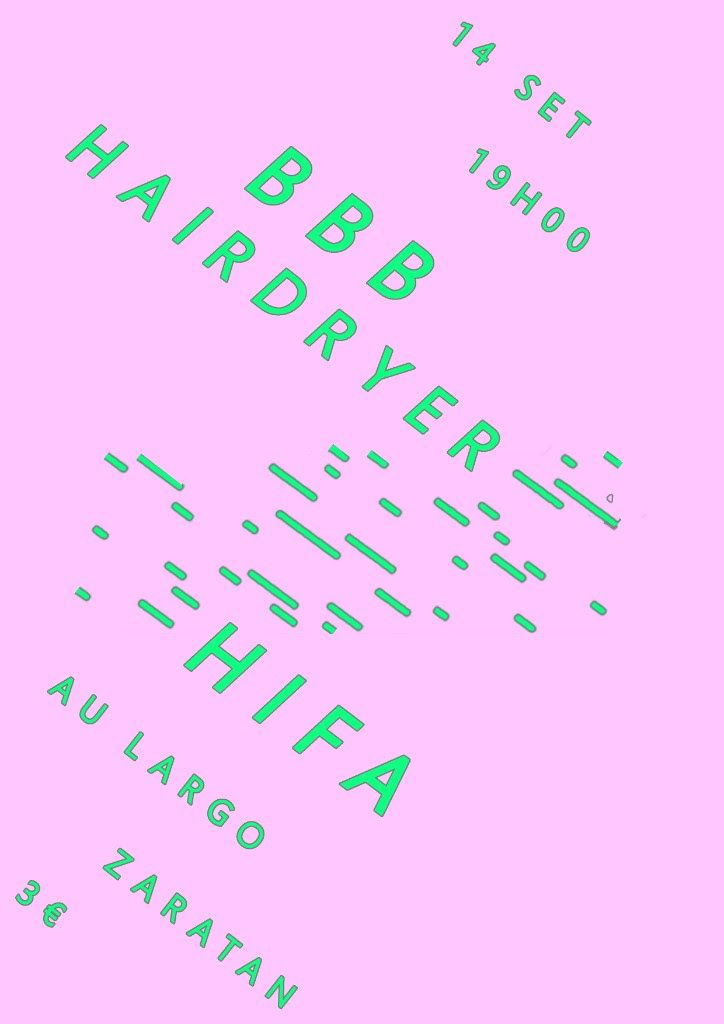 BBB hairdryer presents himself in a practically raw format, without the leaven of the big pop-stars and it is he who says it in his descriptions - recordings in one take and directly from the mobile phone at hand. Perhaps that is why it comes to us with the inherent warmth of those who seem honest in what they say.
Without any edited EP, he performed at key venues in the Lisbon alternative music scene such as EKA Palace, Titanic Sur Mer or Zaratan Gallery. At the concert at Zaratan, Rui Eduardo Paes wrote about him "a very young vocalist and pop-rock guitarist" indie "who raised waves and caused arrhythmias in some hearts. If the future of Portuguese music does not pass through it will be by distraction. " We could not be more convinced of that.
. . . .
"There's a boat outside this classroom,
you can always come with me"
https://bbbhairdryer.bandcamp.com/
HIFA is a Portuguese artist who sees in music the best way to express himself. In 2017 he released Cu Duro and DM, his first full length, which catchs from various genres and influences - kuduro, funk, techno or more experimental electronics.
Were a Boy, his second album, returns to fields where he was already happy and promise a home trip where he mixes the most ethereal environments of electronics with the most raw and full of dust (there is even in Blonde, a sample of the purring of his cat), in a line that only asks for the movement of the bodies in response. In Fellow Dance, single of the album, proves that the only necessary structure in its music is its dismemberment and constant redefinition.
The essence is that of traveling in different colors and sounds, looking for a connection to a sound that may sound like his, in an insatiable search for a sound of his own.
https://hifa.bandcamp.com/releases
The event is organized in a collaboration between Zaratan and Au Largo.