FESTIVAL MÚLTIPLO
16 Agosto 2018 16h00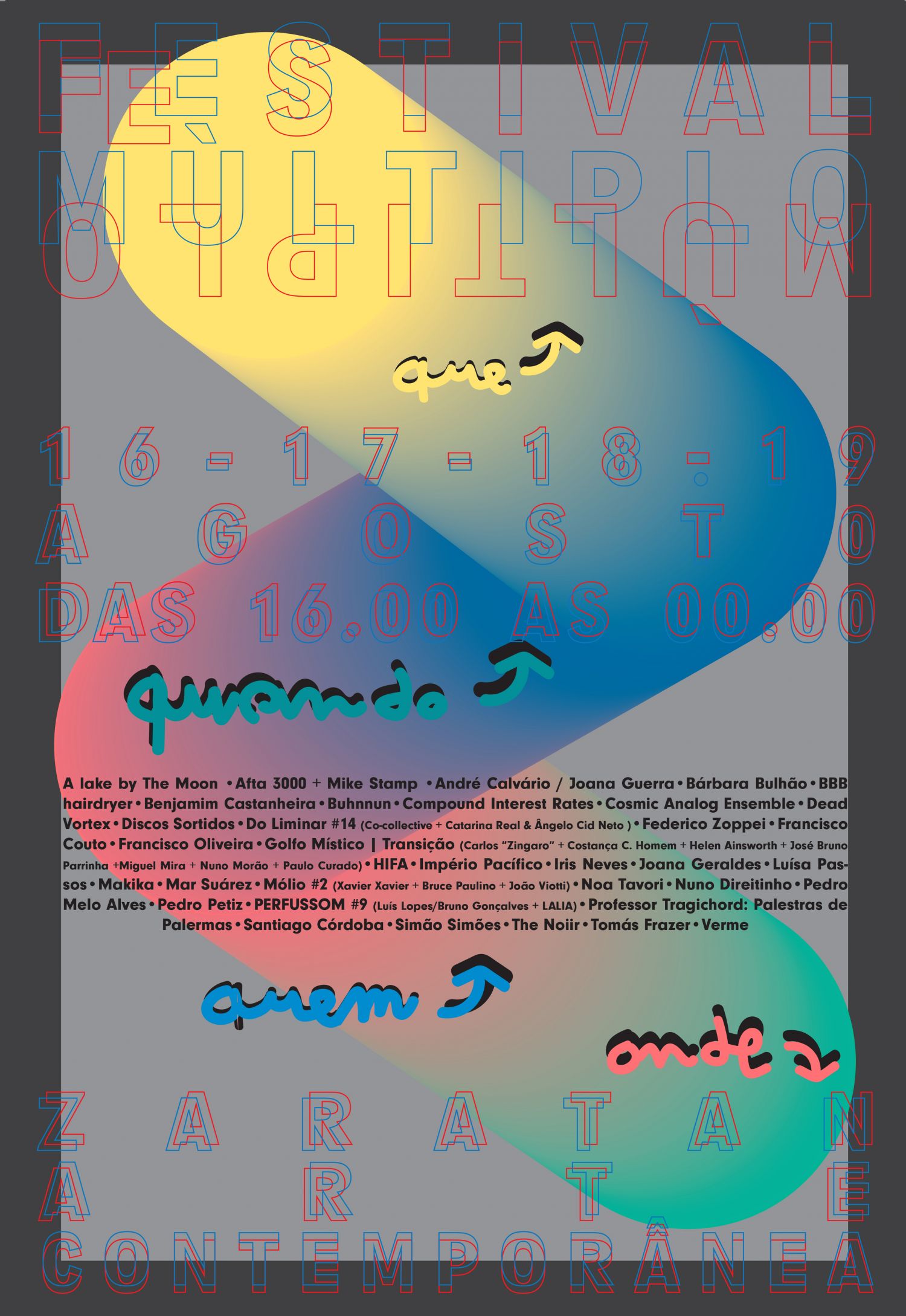 FESTIVAL MÚLTIPLO

August 16-17-18-19
From 4pm to 12pm
Entry 3 euros per day
16 AUGUST

(Thursday)
From 16h to 24h > ÑDJs Iris Nvs e Francisco Couto

<

djset

>


16h > Santiago Córdoba <sound installation>
> Bárbara Bulhão <edition release>
> Luisa Passos <risograph release>
17h > GOLFO MÍSTICO | Transição
(MÚSICOS:

Carlos Zingaro

+ Costança C. Homem + José Bruno Parrinha +

Miguel Mira

+

Nuno Morão

+ Paulo Curado | PERFORMER:

Helen Ainsworth

| VÍDEO:

Mar Suárez

) <multidisciplinary event>
18h > Buhnnun <concert>
19h > Pedro Melo Alves <concert>
20h > A Lake by the Moon <concert>
21h > André Calvário / Joana Guerra <concert>
17 AUGUST

(Friday)
Das 16h às 24h > ÑDJs Francisco Oliveira e Discos Sortidos

<

djset

>


16h > Verme concert>
> Cristina Assunção & Jorge Maciel <edition release>
> Federico Zoppei <risograph release>
17h > Makika <concert>
18h >

Império Pacífico

<concert>
19h > Afta 3000+ Mikestamp <concert>
20h > Cosmic Analog Ensemble
21h > Santiago Córdoba <concert>
18 AUGUST

(Saturday)
Das 16h às 24h > ÑDJs Simão Simões e Compound Interest Rates

<

djset

>


16h > BBB hairdryer <concert>
> Nuno Direitinho <edition release>
> Pedro Petiz <risograph release>
17h > HIFA <concert>
18h > Francisco Oliveira <concert>
19h > Dead Vortex <concert>
20h > PERFUSSOM #9 (Luis Lopes / Bruno Gonçalves + LALIA) <concerts>
21h > The Noiir <concert>
19 AUGUST

(Sunday)
Das 16h às 24h > ÑDJs Tomás Larisch Frazer e Benjamim Castanheira <djset>
16h > Molio #2 (Xavier Xavier + Bruce Paulino + João Viotti) <installative performance>
>

Joana Geraldes

<risograph release>
17h > Professor Lillian Tragichord: Palestras de Palermas <performative talk>
18h > Noa Tavori <artist talk>
19h > Do Liminar #14 (Co-collective + Catarina Real & Ângelo Cid Neto) <performances>

On 16-17-18-19 August 2018, Zaratan – Arte Contemporânea presents the fourth edition of the FESTIVAL MÚLTIPLO, an event organized by plural identities and cross references that promotes the dissemination, materialization and multiplication of artistic and musical experiences.
The festival is "Multiple" in the sense of varied and different, but also because it is a unit that contains several others: the event brings together a growing artistic community, where the identity of the collective is defined and expanded more and more, precisely thanks to of the unique contributions of each individual.
This independent and non-profit event intends to oppose the typical migration of the masses to the big summer festivals, a small festival made by local agents, allowing us to inhabit the city center and to keep independent projects of high artistic value alive.
The festival believes in the existence of a whole different world of art and an increasingly vibrant one, where a number of new species multiply at a rapid pace outside commercial and capitalist logics, exclusive clubs, art galleries, and the conventional museums.
True to the spirit of the previous three editions, the festival is characterized by a strong component of creative DIY production, with publications and graphic editions, and has an intense program of concerts, performances, presentations and talks, including the participation of dozens of national and international artists.
During the first three days (16-17-18) there will be sixteen experimental concerts, musical improvisations and sound interventions distributed across several stages, where you can listen to the projects proposed by some prominent independent publishers in Lisbon: A Besta, Rotten / / Fresh, Au Largo and Angurosakuson.
Since the production of multiple artists, publications and editions has been an important part of Zaratan's curatorial practice, the program of the festival is also accompanied by a specific project of graphic editions printed in risography in partnership with RoughBooks, where a number of guest artists will perform an original artwork inspired by the sound of each band performing during the festival.

During the festival we also present a new episode of the various cycles that characterize Zaratan's regular programming: the performative practices of the CYCLE OF LIMINAR, the improvised performances of GOLFO MÍSTICO, the poetic ramblings of PERFUSSOM, the installational experiments of MÓLIO and the musical set of CICLO Ñ-DJs.