Afta 3000 /// Mike Stamp /// Xoscx
28 Outubro 2017 19h00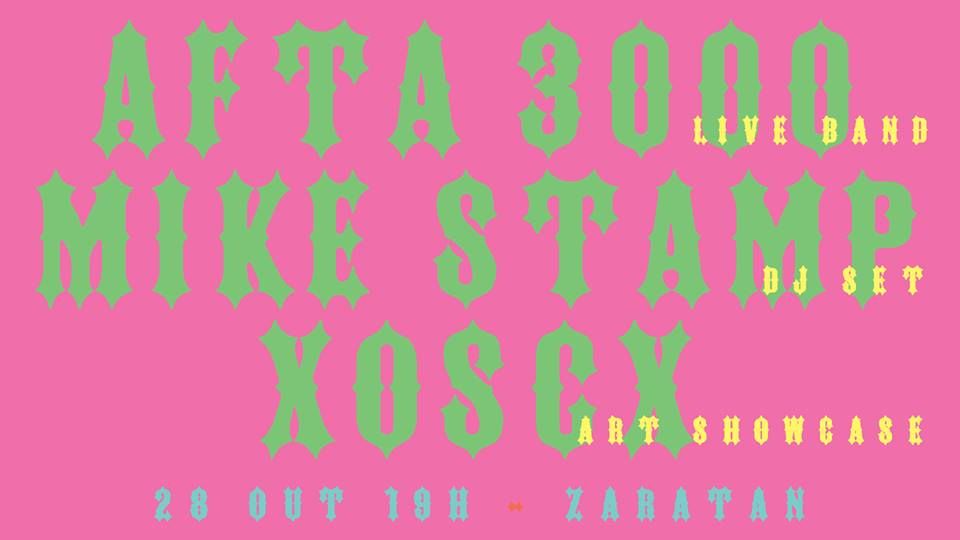 AFTA 3000 (Live Band)
It is a project of André Santos, root bassist, inspired by the currents of Old fusion, Jazz, Electronic, Hip-Hop and some references to Portuguese romantic themes in Vapor tone. These experiences result in a rhythmic, irregular and acidic explosion that leaves (in a very irresponsible way) the bass at the controls of the trip. Bass and MIDI: André Santos // Drums: João Almeida // Visuals: João Paixão.


MIKE STAMP (Dj Set)
Electronic, hip-hop, dub and other sweets to push to a dance floor.
Mike Stamp brings a collection of a good soundtrack to city in the eyes of a Lisbon.
Between original compositions and borrowed from their references, there is an introspective path (of which there is a possibility of not going out) of bass lines that could belong to a British underground basement but that we will be invited to tour in Lisbon.

XOSCX (Art Showcase)
A good boy, with impeccable character and unparalleled cordiality. Wherever he goes, the elders give him compliments and sweets.
The exteriorization of this experience and conduct naturally results in the representation of innards and mistletoe of animals and plants, moments of the birth or rebirth of undernourished creatures, portals, iconography and extraterrestrial characters, and other themes of the genre.