Yedo Gibson + Vasco Trilla + Alvaro Rosso
25 Novembro 2016 19h00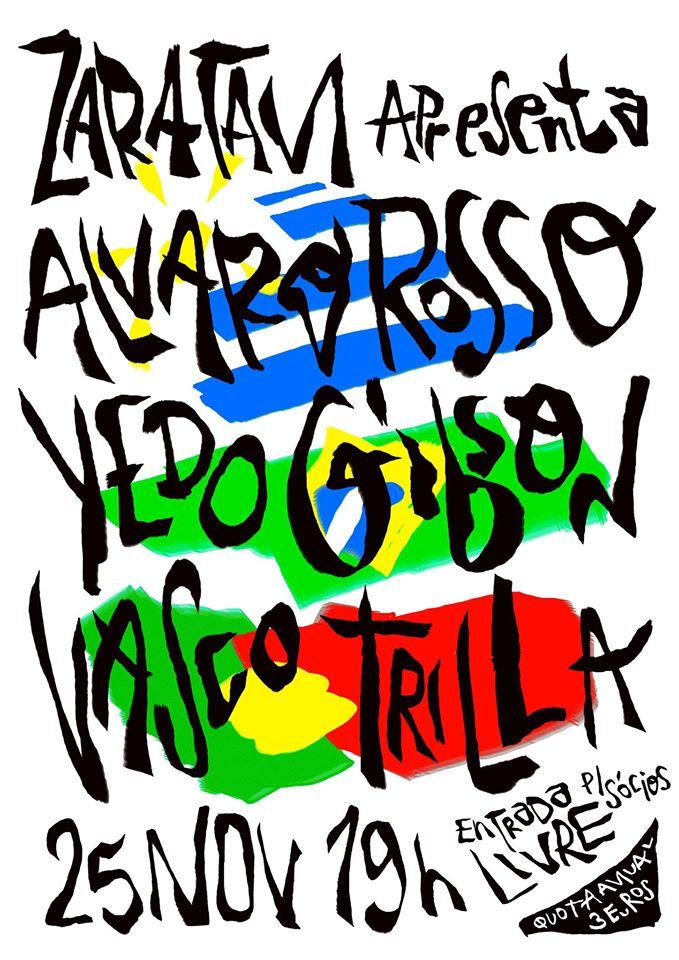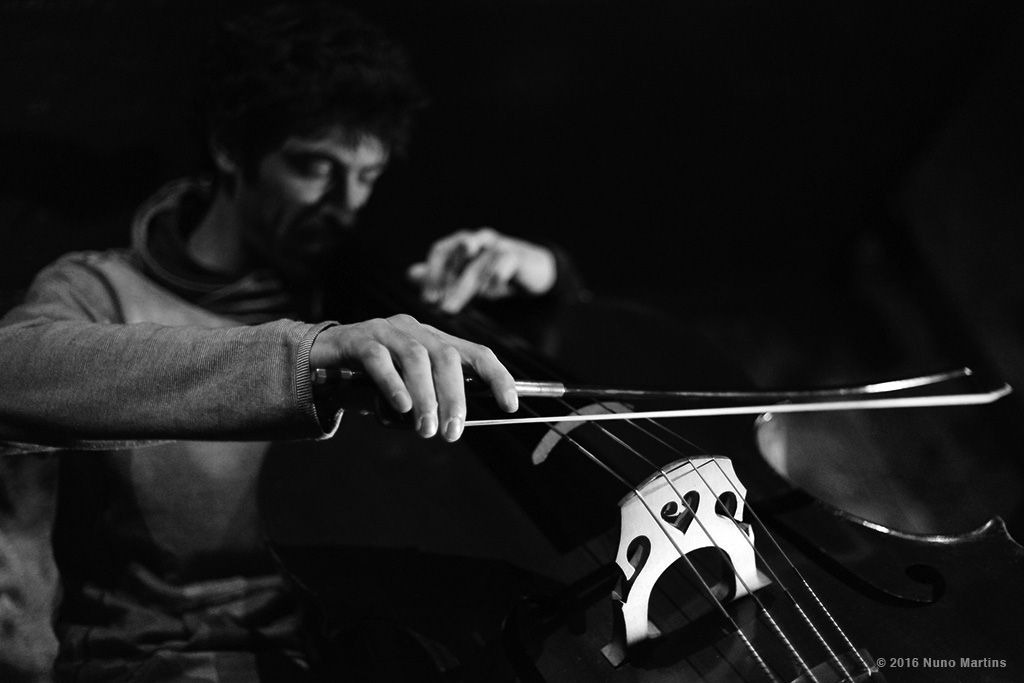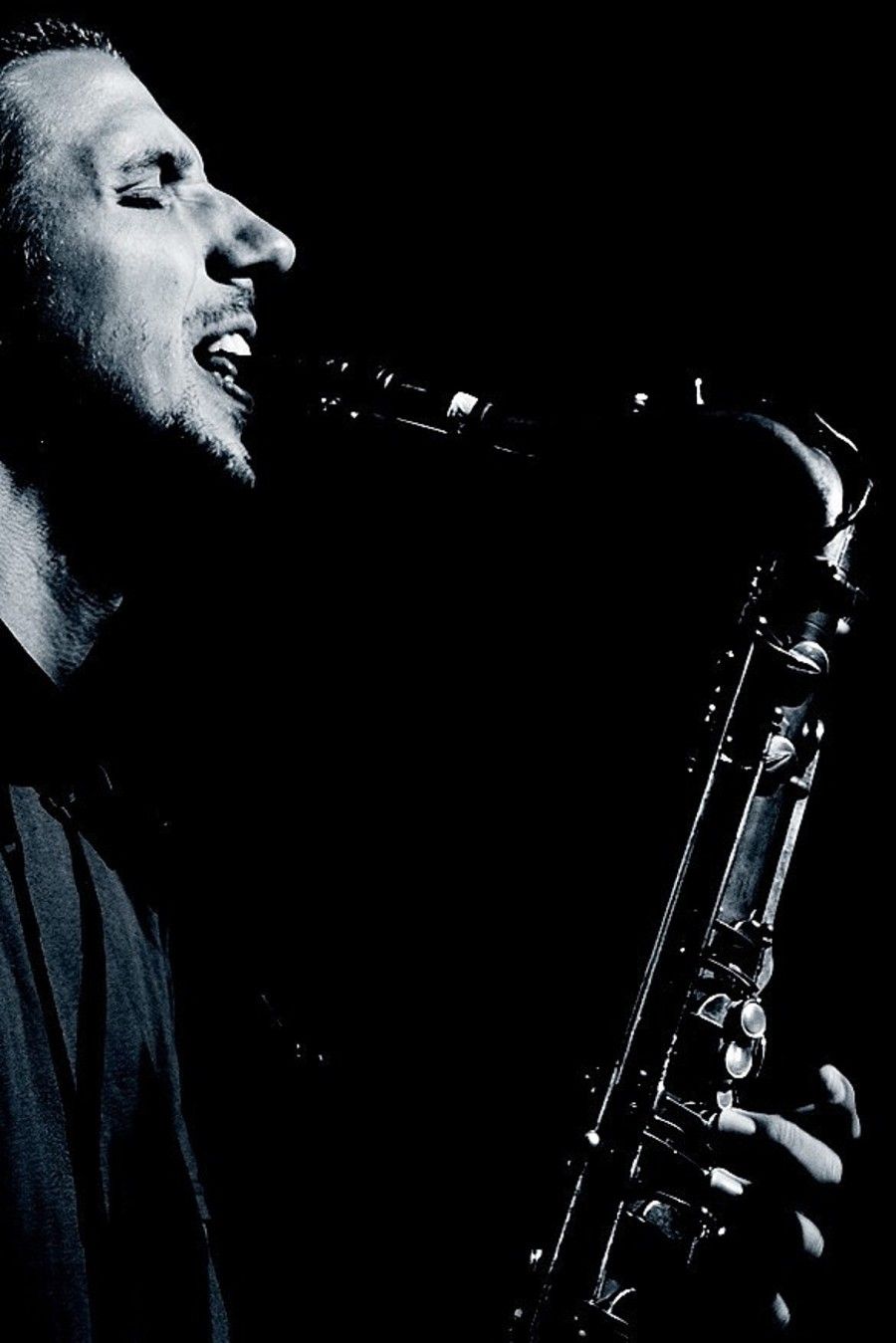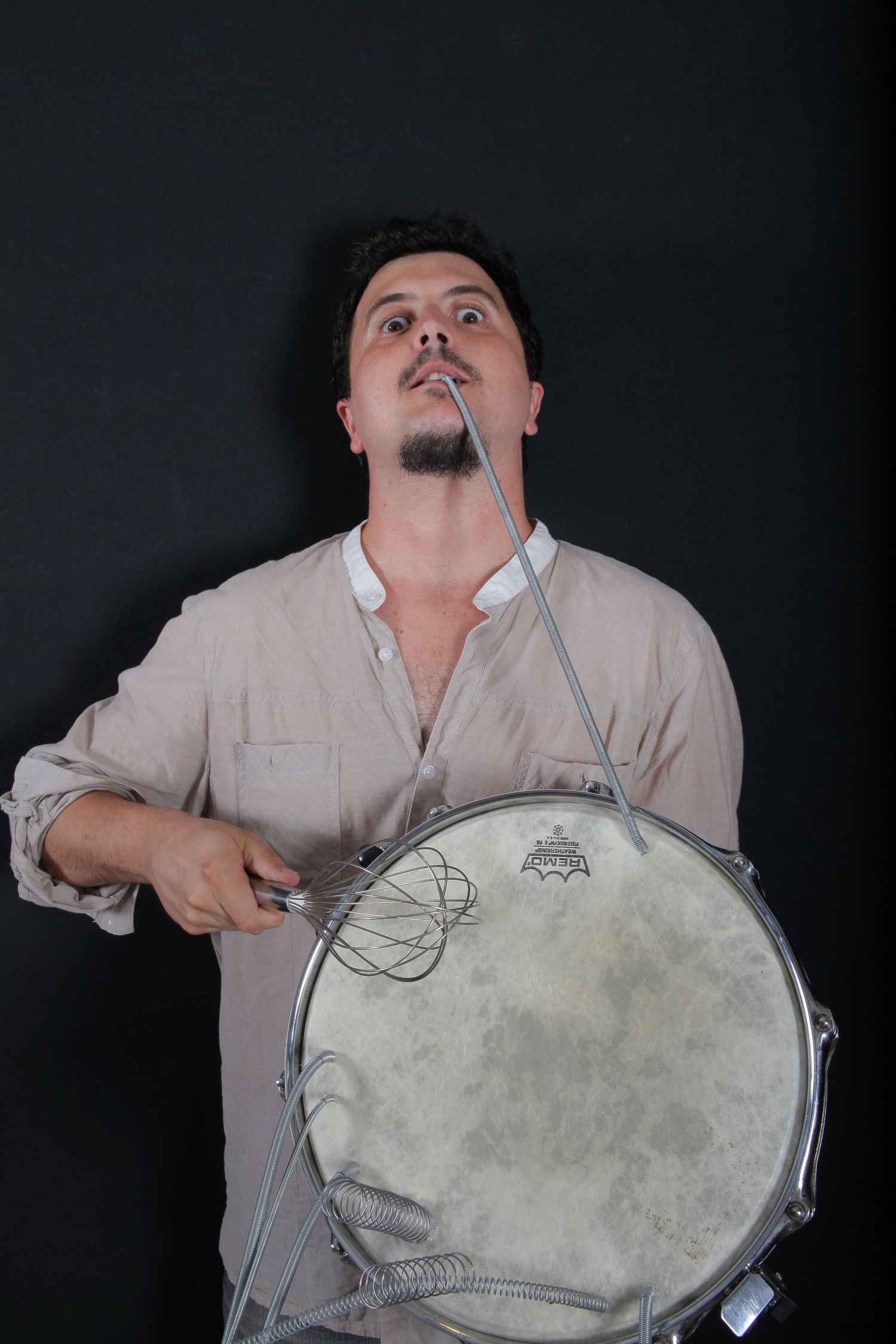 On the 25th of November, at 7 pm, Zaratan - Arte Contemporânea presents an improvised live concert by
Alvaro Rosso
(double bass),
Vasco Trilla
(percussions) and
Yedo Gibson
(saxophone).
BIOS:Yedo Gibson
My story is quite simple, I was living in São Paulo (Brazil) a big city with 21.000.000 people and a incredible concrete jungle and it happen to be playing music too, after many years playing Brazilian music, free improvisation started to take place in my music.Waking up and sleeping with this constant noise that this huge city makes it was inevitable to not have it on my music. As any 3rd world citizen I had to improvise every day and that is what happen to my "forró" (Brasilian music from the north east), became more and more full of noises and freer in the form and content. So in 2005 after recording "Abaetetuba" and "Contra Mão" I thought that it was time to leave São Paulo and meet some other improvisers around the world. Now I am based in Amsterdam but have been for two years in London where I spent most of my time making music with some amazing musicians as Marcio Mattos, Veryan Weston, John Edwards, Steve Noble, Mark Sanders and also was part of the London Improvisers Orchestra together with Lol Coxhill and Evan Parker between other great musicians from the London free improv scene, that was to me a great school. This orchestra has inspired me to start the Royal Improvisers Orchestra (RIO) in Holland and it has been playing since 2006, with 20 musicians from all over the world and from completely individual angels of music with musicians from Baroque to Punk Noise but with the same passion for the improvisation. Here in Holland, beside my fix groups RIO, Caetitu, Abaetetuba and EkE, I have also been playing with some great musicians that I have learned a lot from as Han Bennink, Michael Vatcher, Luc Ex, Marcos Baggiani, Ab Baars, Cor Fuhler and other ZAAL100 (our free improv place in Amsterdam) friends.
Vasco Trilla
Born in Barcelona, Vasco started playing drums at the age of nineteen. His first influences were progressive rock and metal, but gradually he developed an interest in a variety of different genres such as jazz, Indian music, African music, klezmer, free improvisation, etc.
Since then he has collaborated, toured and recorded with many different bands and projects such as Boi Akih (an ethno-jazz band from the Netherlands), Planeta Imaginario (progressive jazz-rock) October Equus (avant-rock), The Oddvisers (pop-avant), Fine! (indie pop-rock), Mundo Flotante (ethno-jazz-rock), Kaulakau/Cobla Sant Jordi (an ethno-jazz Catalan orchestra), Filthy Habits Ensemble (a jazz octet playing Zappa's and Stravinsky's repertoire), Cows On Trees (a jazz-improv quartet with Susana Santos Silva and Kaja Draksler), Balimonster (an impro-ethno duo with Angel Ontalva), Yedo Gibson-Vasco Trilla duo (an improv sax & drums duo), Outerzone (jazz-core), Reptilian Mambo (mambo free rock), Liba's Traum, etc.In the last years he has been playing and experimenting on the free-improv scene, applying extended techniques to the kit and treating it as a textural-melodic instrument. Blowing, bowing, scratching, playing with hands and all kinds of objects, all is valid to expand the vocabulary of this innovative percussionist. He played with improvisers, such as: Lotte Anker, Marshall Allen, Yedo Gibson, Susana Santos Silva, Kaja Draksler, Jasper Stadhouders, Mikloaj Trzaska, Martin Kuchen, Richard Barrett, Jorma Tapio, Christher Bothen, Marc Stucki, Luc Ex. etc…
He has released around 30 CDs in labels such as Cuneiform Records (USA), Altrock Records (Italy), Leo Records (UK) Discordian Records (Barcelona, Spain), Audition Records (Mexico), El Negocito Records (Belgium), Jacc Records (Portugal), Fmr Records (UK).
He has a strong connection with the Polish avantgarde scene, Playing with Rafal Mazur, Michal Dymny, Paulina Owczarek,Mikolaj Trzaska, Wictor Krzak, Jacek Mazurkiewicz,Piotr Melech, Tomek Gadecki among others.

Alvaro Rosso

Moved by an interest in popular music and jazz, he begins his studies of double bass at the University of Music of Montevideo, taking contact with classical music and the basic technique of the instrument. In France, where he continues its formation, begins to be interested in the language of
contemporary music and free improvisation. Once obtained a master's degree in Spain, he has moved to Portugal, where he currently lives. Alvaro is a musician with a rich training and diverse experiences. So far he has worked as much with symphony orchestras, ballets and operas, as with popular or experimental roots projects, including conjunctions with theater, dance or image. Today, besides being a teacher, he develops and collaborates in several projects, mainly jazz and free improvisation / instant composition.