S.O.M.A. Nº 5 | Sound Over Multimedia Art
11 Novembro 2016 19h00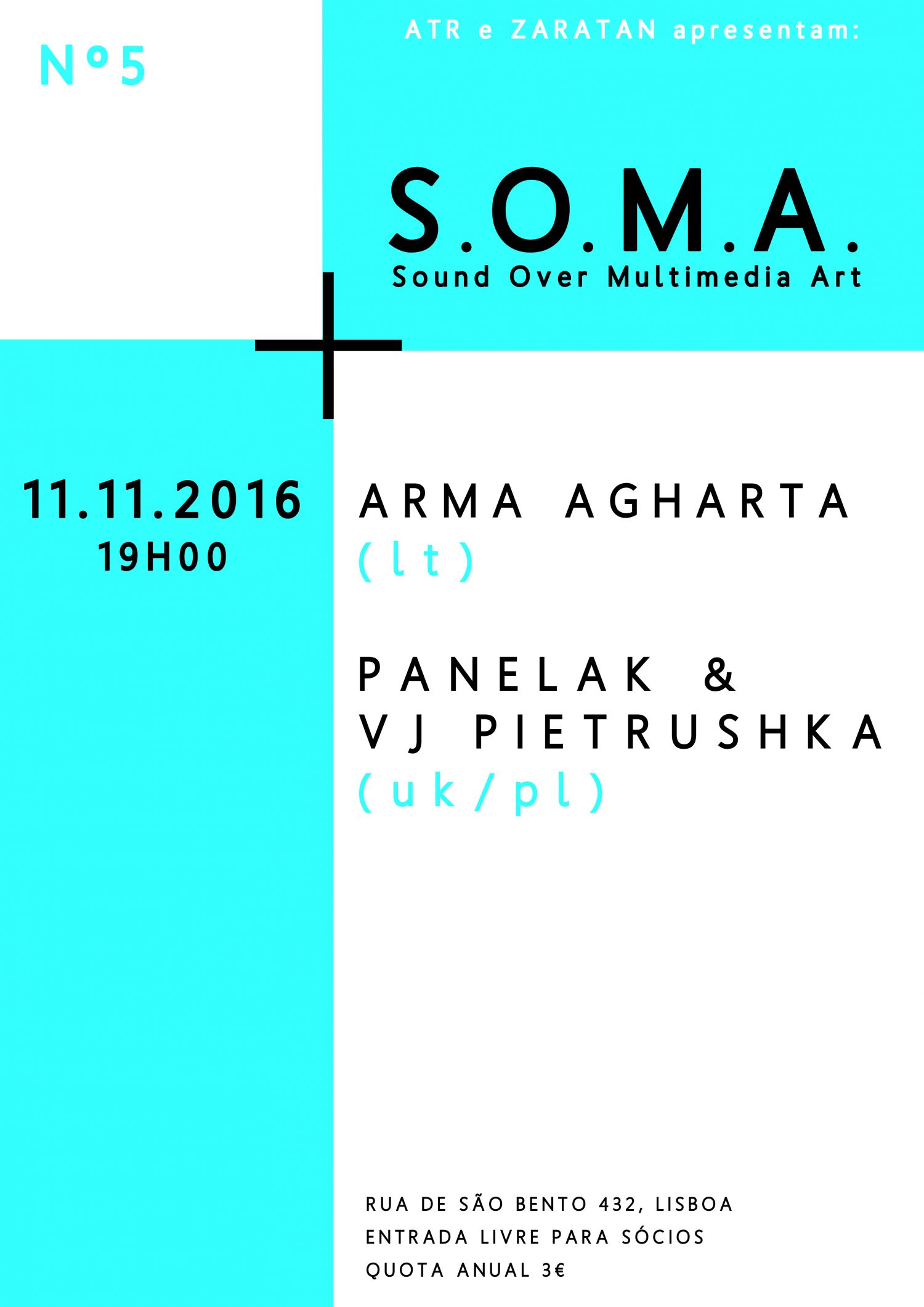 Associação Terapêutica do Ruído and Zaratan present the third episode of "
S.O.M.A. - Sound Over Multimedia Art"
, a new music cycle happening monthly at Zaratan celebrating the audiovisual experimentation, embracing a series of musical projects that comprise an essential visual component in its live performance. This way we are researching the overlaps and the sums between the frequencies of the sound waves and the lengths of the light waves, in an attempt to make audible the visible and/or visible the audible. In this forth episode there will be performances by
Arma Agharta
(lt) and
Panelak + Vj Pietrushka
(uk/pl)
BIOS:
Arma Agharta
He is an artist and performer from Lithuania actives since 1998, whom live shows stands between musique concrete and DIY shamanism. Odd costumes and gestures work along with serious live electronic soundscapes improvised with soviet vintage electronics, acoustic objects and circuit bent gear. The sound performances of Arma Agharta span a broad territory between unbridled eruptions of chaotic noise and hypnotic psychedelic ritual to dadaist humor, odd bodily movements, spontaneous improvised games and the voice, detached from meaning and turning into unintelligible glossolalia.
Panelak & Vj Pietrushka
Panelak (alter-ego of Pascal Ansell, English noisemaker currently based in Lisbon) returns to Zaratan for a special collaboration with his friend Vj Pietrushka (alter-ego of the Polish videographer Maciej Pi? Tek) in a semi-improvised mix of nonsense with deeper feelings. Building on the memories of Panelak's "Heimat" album, the two friends will play something fun but simultaneously inspired by mysterious memories of places.